Club Championship Recap:
We've had a great season of golf and the culmination of our 2023 Men's Club Championship has come to an end. There were 3 Flights: Championship Flight, A Flight, and B Flight. The Club Championship started with a double elimination Match Play format. After 2 rounds, defending Club Champion Gary Higbee went head-to-head with Chris Stone in the Finals. Gary and Chris had an epic 18 hole battle with Gary looking at 5 footer on 18 to win the match. Gary's putt slid by giving Chris new life, and he took advantage. Chris went on to birdie the 2nd hole of their playoff to win the 2023 Harbor Pines Men's Club Championship.
Congratulations to our new Club Champion Chris Stone and the rest of the flight winners and participants.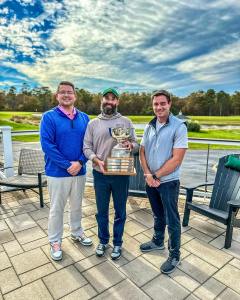 Pictured from Left:  Chris Doyle – Assistant General Manager, Chris Stone – Club Champion, Andrew Quinn – Director of Golf
Championship Flight
 Winner:  Chris Stone   –   Runner Up:  Gary Higbee
Flight A
 Winner:  Fred Bornhardt   –   Runner Up: Tim Scannell
Flight B
Winner: Mark Levithan   –   Runner Up: Jack Evans